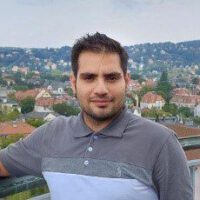 Sajad Mohammadi
PhD Candidate – DC15
Sajad holds degrees in Chemical Engineering, Chemical Engineering-Biotechnology and Nanotechnology Engineering, with 3 years of experience in the chemical and petrochemical industries. His previous academic experience includes teaching assistantships as well as research assistantships in chemical process simulation and bio-hydrometallurgical metal recovery from byproducts.
Recently, Sajad graduated (MSc) in Nanotechnology Engineering from the Sapienza University of Rome. His keen interest in the intersection of life science and engineering, combined with goals in developing systems to treat human disease led him to develop an open-source microfluidic 3D bioprinting system for engineering hierarchical tissues at the 3D microfluidic biofabrication lab, Center for Life Nano & Neuroscience (CLN2S) of the Italian Institute of Technology (IIT).
In 2023 he joined Stop Spread Bad Bugs (SSBB) consortium as a doctoral candidate to contribute in finding novel antimicrobial approaches to combat multidrug resistance in bacteria. Herein, he will be working on the interaction of the medical implants with the novel antimicrobial agents to eventually prevent post-implantation infections.
Also, Sajad is a former professional basketball player and obtained couple of championships in Iranian Basketball League (IBL). He has been basketball coach and referee since 2016.