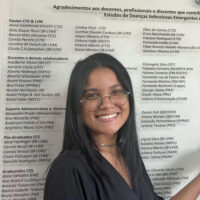 Larissa Bomfim
PhD Candidate – DC11
My name is Larissa Bomfim, a proud Brazilian born and raised in the vibrant city of Rio de Janeiro. My journey into research started rather early and it has been an exciting one. I embarked on this adventure by pursuing a Bachelor's degree in Biological Sciences with a specialization in Genetics (2014 – 2018), followed by a Master's degree in Biochemistry (2018 – 2021), both at the Federal University of Rio de Janeiro, Brazil.
I have always been a curious person, and I started my first junior internship during secondary school to study mathematics. Being in direct contact with pure and applied mathematics brought me a great deal of joy and dissecting mathematical equations were my favorite part of the classes, an aspect that made me realize how I am fascinated about analyzing problems and searching for answers.
In the biomedical science field, my core strengths lie in molecular biology and microscopy techniques. During my Master's program, I investigated the role played by the autophagy-related gene 1 (ATG1/ULK1) in follicular cells of the insect vector responsible for Chagas disease, Rhodnius prolixus. My goal was to gain insights into oocyte formation, with the ultimate aim of finding ways to control the vector population and reduce infection rates.
My journey then took me to the Molecular Virology Laboratory at the Federal University of Rio de Janeiro, where I spent the last two years as a Clinical Study Coordinator. In this role, I played a crucial part in evaluating a range of COVID-19 antigen rapid tests. Additionally, I had the enriching opportunity to contribute to vaccine development for SARS-CoV-2 variants, explore antiviral strategies, and engage in the detection and sequencing of Mpox virus during the 2022 outbreak.
As part of the SSBB network, I am dedicated to testing the effectiveness of antimicrobial compounds in resolving airway infections caused by Pseudomonas aeruginosa in vivo as well as test the effects of the compounds on host immunity. My main career goal is to combine knowledge from academia and industry to develop innovative solutions that positively impact patients' lives.