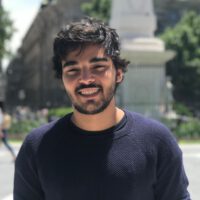 Felipe Gama Franceschi
PhD Candidate – DC5
My name is Felipe Gama Franceschi and I am an Italian-Brazilian who has a lot of passion for science and research. I was born in Rio de Janeiro, Brazil where I pursued my studies as a BSc in Biophysics (2015-2019) and later as a MSc in Parasite Cell Biology (2020-2022), both at the Federal University of Rio de Janeiro, Brazil. I also had the opportunity to do an Erasmus semester at Vilnius University in Lithuania during my BSc (2018). 
My background is pretty much on the cell & molecular biology of Trypanosomatids, in which I had the opportunity to study some proteins of the Trypanosoma cruzi parasite through endogenous tagging of specific genes using the CRISPR/Cas9 technique. More recently, I was a fellow researcher in the Genetics and Epigenetics Laboratory in AREA Science Park in Trieste, Italy (2023). 
My current PhD project at SSBB aims to create bioluminescent bacterial strains in order to better visualize the infection development in different models. My goal as a scientist is to do research within the infection biology theme. 
Concerning myself, I am a very extroverted person and I really enjoy being in diverse and multicultural environment. You can invite me for anything from a drink in a bar to skiing in a mountain, I enjoy having different experiences.