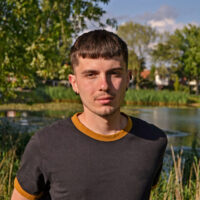 Alessio Fontanot
PhD Candidate – DC10
Here is Alessio Fontanot, italian with a touch of Istria. I grew up in the surroundings of Trieste where I obtained my Bachelor's degree in Biological Sciences and Technologies in 2020 to then move in Tuscany where I pursued the Master's degree in Molecular and Applied Biology in 2022 at the University of Florence.
During my undergraduate internship at the Biology Department I acquired a good knowledge in working on all that concerns microbiome analysis. I had the opportunity to work on a master thesis part of a joint project between the University of Florence, the Nijmegen University and the Kilimanjaro Clinical Institute and  being involved in the analysis of fungal microbiome in rural and urban communities of Tanzania, focusing my research on gut yeast characterization in relation with dietary  interventions.
In 2022 I joined the Department of Microbial Ecology of the Slovak Academy of Sciences in Bratislava for a traineeship focused on targeted metagenomics through MinION Nanopore Sequencing on different samples, further developing my molecular biology skills.
In 2023 I joined the Horizon Europe-MSCA funded Stop Spread Bad Bugs (SSBB) consortium as a doctoral candidate. My current project involves a collaboration with the Erasmus MC in Rotterdam, the Medical University of Vienna and the TissueGnostic GmbH and allows me the great opportunity to focus my study in testing the activity on antimicrobial peptides on Pseudomonas aeruginosa and Staphylococcus aureus biofilm formation.
My main goal is to broaden my knowledge, acquiring skills and experiences as a researcher in different and international environments, and taking my permanent place in this field.
Besides my scientific background, I have polyhedric interests but I am mainly a music enthusiast and a web creator. I love sharing moments with people and getting included in new stories, discovering places, cultures and personalities.