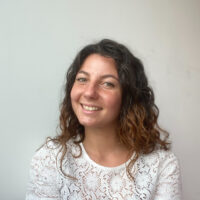 Alessia Maranesi
PhD Candidate – DC13
My name is Alessia Maranesi, and I'm an Italian girl with a passion for the Medtech world. I grew up in a small village in the center of Italy, and my passion for exploration led me to the University of Padua, where I obtained a Bachelor's Degree in Biomedical Engineering (2017-2020). I continued my academic journey with a Master's Degree in Biomedical Engineering, specializing in the field of Biotechnology, Cells, and Tissues at Politecnico di Milano (2020-2023).
During my studies, I had the opportunity to spend a semester at the Universidad Politecnica de Madrid. There, I delved into topics related to biomedical signaling and engaged with an international environment that I fell in love with.
 I came into contact with the world of organic chemistry through my master's thesis, in which I carried out a year-long experimental project involving the synthesis of fluorinated nanostructured peptides for drug delivery at the Politecnico di Milano.
Since August 2023, I have been working as an industrial doctoral student at Hylomorph AG, a spin-off from ETH Zurich. In this role, my work focuses on evaluating the effectiveness of antibiotic molecules conjugated with implantable medical devices, allowing me to combine my interests in biomaterials and drug delivery.
Beyond my academic path, I am a very outgoing and sunny person who loves to travel, seek new experiences, and surround myself with stimulating individuals. I enjoy playing beach volleyball, hiking in nature, and I have a deep passion for cinema, which I often enjoy sharing with my friends.